News
Our new LIBERTAS Innovation Blog on innovative products, services, processes
Please see our new EEIG Blog
---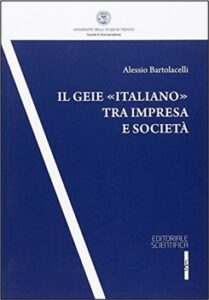 Neues Italienisches EWIV-Buch von Prof. Bartolacelli – jetzt auch bei LIBERTAS verfügbar mehr…
Das neue Standardwerk über EWIV in Italien, durchaus angereichert auch mit zahlreichen rechtdogmatischen Ausführungen, von Prof. Dr. Alessio Bartolacelli (Universität Macerata/Marche), das im Verlag Editoriale Scientifica in Neapel erschienen ist, ist im deutschsprachigen Raum gar nicht so einfach zu erhalten. Das Europäische EWIV-Informationszentrum hat jetzt eine gewisse Anzahl erworben und kann diese abgeben. Die bibliographischen Daten sind:
Alessio Bartolacelli: Il GEIE "italiano" tra impresa e società, Napoli 2014, Editoriale Scientifica, 257 Seiten, ISBN 978-88-6342-691-5, 19,00 EUR (+ Portokosten)
Der italienische Titel ist ein sophistisches Wortspiel: "Die "italienische" EWIV – zwischen Gesellschaft (von ganz Italien) und Gesellschaft (also Unternehmen). Dieses auf Italienisch geschriebene Buch eignet sich natürlich nicht für jede EWV im deutschsprachigen Raum, aber z. B. für EWIV mit italienischem Mitglied, dem eine Freude bereitet werden soll, oder für eventuelle zukünftige Mitglieder, oder für Österreicher und Deutsche, die mehr oder weniger dieser Sprache mächtig sind. Mit Büchern, die viele dem Deutschen ähnliche Abstraktionen enthalten (wie z. B. juristische Terminologie), kann man übrigens auch gut Fremdsprachen lernen. Es gibt auch EWIV, die sich eine eigene Bibliothek aufbauen (wobei wir gerne behilflich sind!), aber auch jenen EWIV-Geschäftsführer, der seufzte und sagte: "Nächstes Mal lege ich dies dem Betriebsprüfer hin…"
European Union Foreign Affairs Journal eQuarterly for European Foreign, Foreign Trade, Development, Security Policy… more…, Европейский журнал иностранных дел– Our Flyer in Russian download, new: No. 2 – 2017 (pdf)
"From Inside – LIBERTAS – European Institute eNewsletter" (formerly "LIBERTASdotcom"). more…
The EEIG in European research: For universities, research institutions, research administration, researching enterprises etc. The EU demands more and more so-called "dedicated legal structures" for research projects, so that they work sustainably, also for the time after the project duration. more…
Società cooperativa europea (SCE)  Societas Cooperativa Europeae (SCE) – List (pdf). Regulations (DE, EN, FR, IT – zip-file)
We look for interested and interesting people from all over the world – preferably students (undergraduate/graduates) – who would like to have an Internship with LIBERTAS – European Institute GmbH more..
Gruppo europeo di cooperazione territoriale (GECT) – European Grouping for Territorial Cooperation (EGTC) – List (pdf). Regulations (DE, EN, FR, IT – zip-file); Esempi di GECT page GEIE
LIBERTAS Europäische Zeitschrift – European Review – Revue européenne free download 1984-1992 more…
Archiv Unione Monetaria Europea