European Union Study Tour by Kyrgyz Republic Delegation – May 2001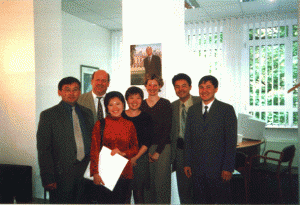 The picture shows the Kyrgyz delegation with Invest in France Agency representatives in Frankfurt/Main (from left to right): SuerkulBakirov, Patrice Schmitt (IFA Chief Officer), MahabatAsanalieva, SalidatOrmusheva, Geneviève Bubel (IFA External Affairs), AltynbekBialiev, DairKenekeev.
A high-ranking Kyrgyz Republic delegation spent two weeks in Europe for a study visit on investment policies in May 2001. For the Kyrgyz delegation, LIBERTAS hosted the programme, together with IBF Brussels (http://www.ibf.be), a large consulting company from Belgium who has excellent project experience as well as particular links to the Kyrgyz Republic, of a two-week study tour through Germany and France.
Mr. AltynbekBialiev, Head of Investment Department/Investment Promotion Center, Mr. DairKenekeev, Chief Expert/Investment Promotion Center, Mrs. SalidatOrmusheva, Head of Legal Department/State Committee of State Property and Direct Investment, Mr. SuerkulBakirov, Head of Department/Strategic Companies Privatization and Mrs. MahabatAsanalieva, Local Consultant, Private Enterprise Support Project (World Bank), were shuttled from Frankfurt via Wiesbaden, Heidelberg, Lahr, Stuttgart and Berlin to Strasbourg and Colmar in France.
They got an in-depth impression by highly qualified speakers and dicussion partners: Invest in France Frankfurt (Mr. Patrice Schmitt, Chief Officer, and Mrs. Geneviève Bubel, External Affairs) on investment promotion, Mr. Hermann Witzel (M & A Consultant, Bad Homburg) on M & A in Europe, Mr. Rainer Stenzenberger from Investitionsbank Hessen AG on project appraisal, the Euro Info Center Wiesbaden and Dr. Khaled Snouber, Director of EIC, the GTZ in Eschborn (Mrs. Ulla Törnroos) on micro-financing, Dipl.-Betriebswirt (FH) Olaf Richter from SIEMENS AG Erlangen on project risk management and early warning systems (for which he contributed practical experience from a SIEMENS project in Albania). Mr. Rainer Marelli from SIEMENS AG Power Transmission and Distribution Medium Voltage factory in Frankfurt-Fechenheim showed the plant and its internal organisation, Dipl.-Kaufmann Alex Wolf from the IHK (Chamber of Industry and Commerce) Rhein-Neckar in Heidelberg discussed on regional policy and the activities of the chambers in Europe, Prof. Dr. Hans Peter Kempkes, Deputy Director of the University of Applied Sciences (FH) Lahr spoke on private university structures in the European Union, and Siegfried L. Diekow from SDM Siegfried DiekowManagementberatung GmbH, expert and author on project management, discussed on project management in investment promotion.
The study tour also included visits to the Agence de Dévéloppement de l'Alsace (ADA) in Colmar/France (Mr. Bernhard Haettel, Deputy Secretary General), to the DaimlerChrysler factory in Sindelfingen, to the Baden-Württemberg GWZ (Mr. Peter Schlosser, International Industrial Cooperation) and the Ministry of Economic Affairs (Ministerial Section Chief Dr. Hans-Peter Frey, Mr. Rainer Presser, Economic Cooperation with CIS) and various briefings by LIBERTAS staff, among others by Managing Director Ute Hirschburger and RA Hans-Jürgen Zahorka, as well as Mrs. Astrid Heienbrok from Agreement S.L. in Marbella/Spain.
All the discussions were held in English language, it was however surprising how many discussion partners from Germany and France spoke Russian to the Kyrgyz delegation. The surprise became total when in Berlin the delegation from Bishkek, which is close to the Chinese border, spoke Turkish with the representatives from Turkish-German Enterprise Association. Kyrgyz and Turkish are rather close related languages – due to some historical relationship from the times of Djingis Khan. Mr. Bahattin Kaya, Deputy Chairman, Mr. Ahmet Ersöz, Press Speaker, and Dipl.-Kaufmann HüsnüÖzkanli, Secretary General from the Association arranged also a visit to Concept Verlag with a Turkish-owned printing business, where also the editors of "Merhaba", a Turkish-German bi-weekly city magazine are located. A long talk with Mr. Mehmet Zagli, Chief Editor, closed this visit.
In Berlin there were also visits to "gsub", a social enterprise consulting, and its project director Mrs. Dorothea Gerke, on start-ups in Germany, and to the Jean Monnet House where an EU Information Centre is located; Mrs. Sabine Schreiber briefed there on the activities of the centre. A highlight was the special guided tour by Dipl.-Geograph. Susanne Hagenlocher from Berlin City Tour through the German capital. Apart from the fact that despite many unknown (as there were no controls in "Schengen country") border crossings between France and Germany in the Strasbourg area had been undertaken – also the European Parliament has been visited – the final highlight became a visit to Dr. Dr. ApasDjumagulow, Ambassador of Kyrgyzstan to Germany and former Prime Minister of his country.
It remains to keep in mind that Kyrgyztan is a beautiful country with almost 90 % mountains, including the famous K2 peak from the Himalaya mountains, where horseriding and mountaineering are popular outdoor activities, and the country is just being discovered als holiday resort (see also under the Kyrgyztan internet gateway http://www.kg).